Week 13
Published 14th January 2019 by Henry
Introduction to VFX. Riot Games tutorials.
http://www.tharlevfx.com/
Choose a VFX area, 1 week study project
Afternoon: Presentations
---
Materials
Conveyor belt scene
Node shortcuts – M click for Multiply, S click for Scalar etc
Turn on Live Update and Live Nodes to see what everything's doing
Pan and Rotate textures
MPC – Useful for creating globals across materials so you can change things across the scene
---
DustyWindow
Iterative process – don't spend loads of time on something only to realise it's shit
Material Blend Mode – additive for light as it makes things brighter
Custom Depth – Thomas Looman
Emitters
Emitter time and particle time – mostly use particle tim
Graph
Ctrl click to add a point
Alt Ctrl click drag to select multiple
Spacebar to reset emitter
Need to add a Sub UV index node and then Random intrepolation so the emitter selects a random part of the image for the particle.
Initial Location – Make particles fill a box volume
---
Sandstorm
Multiplying a normal map makes no visual effect because pythagoras. Multiplying the length of the normal won't make any difference because it affects XYZ equally.
Use power node to increase contrast of a texture, as it will scale rather than clip (i.e. 1 will stay 1, 0 will stay 0)
Dynamic Parameter – sends values to material (Parameter>Dynamic in emitter, Dynamic Parameter in material)
Camera Clipping
Emitter particles will appear in a flash. So use camera depth fade node in material: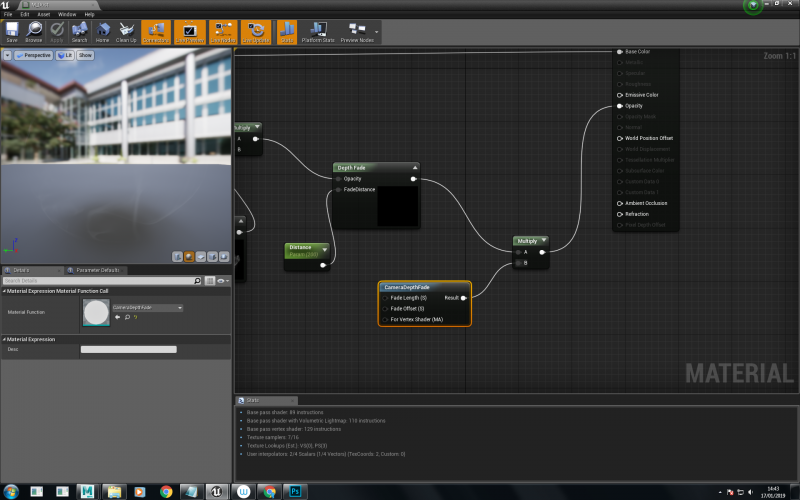 WeAreMidnight Event Visuals
Maya
Shift + W : create keyframe for animation
Viewport: View > Settings > Resolution Gate – shows the rendered area of the scene
DirectX Development Kit: Download it to see Targa thumbs
---
GPU Particles
Right click > Type > GPU Sprites
Because of the way GPU calculates things, a bounding box is needed so the GPU knows when the emitter is on screen:
https://docs.unrealengine.com/en-us/Engine/Rendering/Materials/ExpressionReference/Particles
Vector Grids
Import the UE4 vector grid shelf into Maya.
FX > Fluids> Create 3D Container
Display > Boudary Draw > Full
Play theanimation to see the emitter
Check the Velocity Draw checkbox to see arrows for the forces within the container
Velocity Draw Skip – removes some of the arrows so you can see